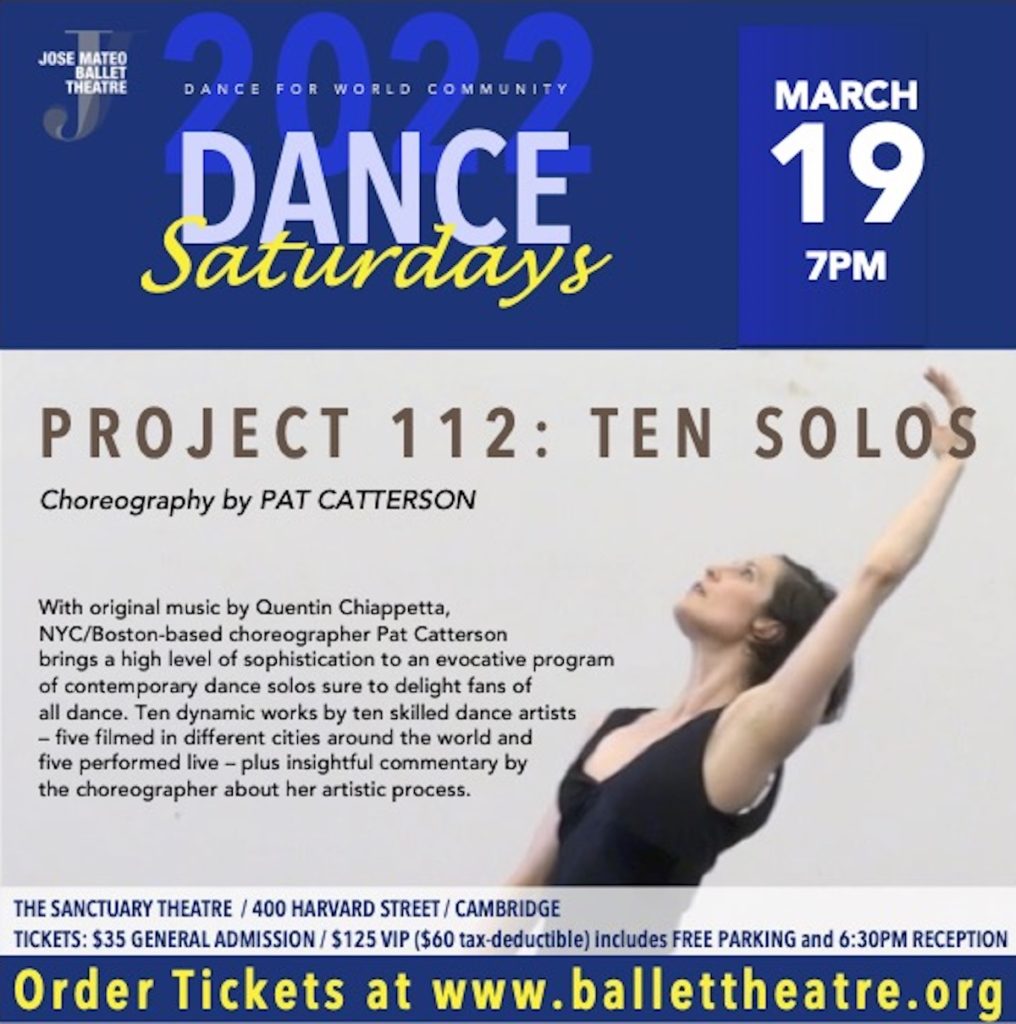 With original music by Quentin Chiapetta, NYC/Boston-based choreographer Pat Catterson brings a high level of sophistication to an evocative program of contemporary dance solos sure to delight fans of all dance. Ten dynamic works by ten skilled dance artists — five filmed in different cities around the world and five performed live — plus insightful commentary by the choreographer about her artistic process.
Pat Catterson, a NYC and Boston based artist, has choreographed 114 works, receiving many accolades including a 2011 Solomon R. Guggenheim Choreography Fellowship and multiple individual grants from the National Endowment for the Arts, the CAPS Program, the Harkness Foundation, as well as a Fulbright Grant. She has been on the faculties at Sarah Lawrence College, UCLA, the Juilliard School, and the Merce Cunningham Studio, among many others. For twenty years she taught her own tap classes in NYC and has been a guest artist all over the US and in Europe, recently at CNDC in Angers France, at Greece's Kalamata Dance Festival and at University of Colorado. Her writing has been published in Ballet Review, JOPERD, Attitude Magazine, Dance Magazine Online, the Getty Iris, and the Dance Research Journal. She earned her BA in psychology and philosophy from Northwestern University and her MFA in Interdisciplinary Arts from Goddard College. She first performed Yvonne Rainer's work in 1969 and since 1999 has worked as her dancer, rehearsal assistant, and stager of her early works, touring nationally and internationally. Most recent Rainer projects were for Stockholm's Weld Company, the Stephen Petronio Company, and MoMA's exhibit Judson Dance Theatre: The Work is Never Done. She retired from performing in 2018.
Doors open at 7pm.
Cash bar and complimentary hors d'oeuvres.

VIP Tickets include pre-performance reception at 6:30pm, free parking, and $60 tax-deductible contribution.